Group presentations can be arranged for any number of participants, focusing on any aspect of the game, and for any length of time -- at your location or one of my locations. Since each situation is unique golf instruction clinics are scheduled and priced on an individual basis.
Clinics, seminars, workshops or large group lessons can consist of mostly lecture and demonstration on any area of the game, or the focus can be more hands-on -- working with all participants on their techniques.
Contact me to inquire about a presentation for your group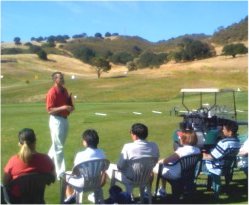 ---
Upcoming Golf Clinics
I hold pre-scheduled clinics on various aspects of the game a few times a year at my locations. See below for upcoming clinics.
Saturday May 25th
How to be More Consistent
with Your Full Swing
Developing solid and repeatable fundamentals that work
About the Instructor | More details | Sign up below
When:
Saturday May 25, 2013
Where:

Golf Course



Walnut Creek, CA 94598

Time:
4:00 - 6:00 PM

*

Cost:
$50 per person (practice balls included)
Details
Learn how to have reliable technique
* Ending time may vary with the number of participants
* I offer more appropriate classes for brand new beginners - stay tuned and read my free beginners book
Sign Up
Please fill-in and send the form below to reserve your spot in the clinic. I will get back to you by e-mail (usually within 24 hours -- or after a weekend).
I do not require pre-payment for the clinics or classes, but since I am limiting the number of participants please be sure you can attend before reserving a spot, and check your email (and your junk/spam folder) and be sure to reply to confirm that you received my emails and to reconfirm that you will be there. Thanks.
* indicates required field