In an ongoing effort to make PGAProfessional.com an enjoyable and worthwhile experience for my golfing visitors I am including some free gifts, and will continue to come up with more. Enjoy. MB
Free Book for Beginning Golfers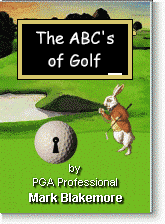 I have made the entire contents of my golf book for absolute beginners, The ABC's of Golf, available online here at PGAProfessional.com. It's a great place for new or prospective golfers to get started. Please recommend this free book to anyone you know who is brand new to the game or thinking about taking it up. Enjoy. MB
Free Wallpaper
To get this free wallpaper all you have to do is select your screen resolution (dimensions) below, wait for the image to load completely, then save the image to your hard drive. Or you can right-click the links and "Save Target As..." or "Save Link As..."
And More ...
If you're looking for even more free gifts don't forget about all the Golf Tips, the current Golf Instruction Article, the Archive of Previously Posted Instruction Articles, the Ask the Pro feature and its Ask the Pro Archive of Golf Questions & Answers, the Golf Glossary of over 1,000 golf terms and phrases, the Golf Entertainment Articles section and archive and the valuable and educational Handicap Calculators ... all free here at PGAProfessional.com. Who's your buddy, who's your pal?
More free stuff coming in the future ...