and welcome! How about some golf instruction tips and lessons to improve your game? PGAProfessional.com is full of golf tips, golf instruction articles, information on golf schools and golf lessons, and a lot more for improving and enjoying your golf game.
There are golf tips on every major area of the game, a large number of golf articles on a variety of topics, over 600 golf questions and answers in the "Ask the Pro" section and over 1,000 golf words and phrases in the Golf Glossary - with more of all those things being added all the time.
Learn how to be more consistent, hit it longer, be more accurate, manage your game, improve your swing, and lower your score. There's something here for all golfers - even a free online golf book for beginners. Explore and enjoy PGAProfessional.com.
Please remember to bookmark this site -- (Ctrl or Comm + D)
Thanks for visiting

---
The
Your Golf

series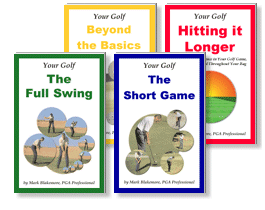 Covering the entire game in simple, user-friendly detail. Straightforward, clearly explained fundamentals for beginners and great ongoing reference books for players of
all
skill levels—with the last volume on everything you can do to
Hit It Longer!
---
Golf Tip of the Fortnight
Cold Weather Tip
When it's cold, don't hit it thin ... just kidding.
When the greens are frozen solid don't expect the ball to bite ... OK, just kidding again.
But that reminds me: to hit the ball your maximum distance land it on a frozen lake ... all right that's enough.

Here's the real one.
When it's cold the ball does not go as far, mainly because your muscles are not as warm and therefore do not go through as full a range of motion or contract as fast. So one thing you should do is warm up more than you usually do to see if you can get your muscle temperature up. If that isn't possible be sure to compensate by using more club rather than trying to force the club you think should go the right distance.
Swing technique is covered in detail in my books "The Full Swing" and "Hitting it Longer"
Golf swing and short game techniques are covered in simple and user-friendly detail in my books, "The Your Golf series," shown in the graphic above (and a couple to the right).
And I work with golfers of all skill levels on all areas of their games (individually or in small groups of friends, family, co-workers, etc.) in my Private Golf Schools.

---

---
---
---