Here's my latest entertainment article. Also see the Golf Entertainment Articles Archive for more golf stories and editorial articles.
Another Exciting Moment

... or not




Work on your game in person with the author of this article and website at

Located in the east bay area of San Francisco

---

Or if that's not possible get the author's 4-volume series of paperback books covering the entire game in detail.
Way back in the early 90's I remember a Tuesday when I was down in Monterey. I had attended a PGA seminar of some kind the day before and had decided to stay in town and play a round of golf the next day, rather than hurrying back home in traffic on Monday evening. So I arranged to play Poppy Hills—a course that seemed very tough the first couple times I played it but then got a little more manageable once I knew my way around.
Anyway, to make a long story short (and because I don't remember another thing about the round besides the last hole): I arrived at the 18th tee by myself, as the people I had been playing with ran out of time and had to leave before they were finished. They said goodbye after finishing on 17 and I was on my own.
The 18th hole at Poppy Hills is a par 5, and I had to wait on the tee because the group in front of me was still within my reach. As I waited, the twosome who had been following us caught up and asked if they might play in with me. I said, "Sure." After a few seconds one of the guys said, "Are you waiting?" And I said something like, "Yeah, ya never know when ya might get lucky and catch one solidly." He replied with, "Well I sure don't need to wait," and went down to the next set of tee markers and hit his tee shot. His playing companion followed suit and they were both back in the cart within a minute of having arrived. I still had to wait, because the group in the fairway had not moved much yet.
Finally I hit my tee shot, and don't even remember where it went exactly but it was fine and it may or may not have vindicated my waiting. But the thing I do remember is that the guys in the cart were off and running as soon as I made contact with the ball. Apparently they were running out of time too (perhaps they had an engagement with the people who left me on 17.)

I had to wait again on my second shot because, of course, the group in front of us was on the green and it was more than likely—even though not guaranteed—that I could reach the green. My playing companions had already hit their second shots and were looking at me like you're going to wait again? (Not believing for a second, I suspect, that I could reach the green even after seeing where my tee shot was.) I remember that I had to cut the second shot because there's a big tree hanging out into the right side of the hole and my angle seemed to dictate that I go around it. So I hit a 3 wood, aiming at the left side of the green trying to hit a cut and... it didn't cut at all, or not enough, and so I ended up on the extreme left side of the green. Unfortunately, the hole was on the extreme right side of the green, cut close to the front edge.
My two playing companions were already on the green doing their thing when I got there. They had already chipped and marked, etc.
I discovered as I reached my ball that not only was it a very long putt but also that the terrain between my ball and the hole was, to say the least, undulated. As I remember it, it would not be an exaggeration to say that this was the hardest putt I have ever had in my life. Now, I admit that it has been a long time since that day, but remember: this is the only thing I remember about it. I actually had to aim to the right of the flag (back toward the front of the green) from where I was coming and the undulations were going to throw the ball, first hard left toward the back of the green and then wildly back to the right, down toward the front of the green, where the hole was cut. On a straight line from my ball to the hole the length of this putt might have been, I don't know, maybe about 80 feet. On the line that the ball was actually going to take it may have been half again that long. The way I was reading it, it looked like it was going to double break in the biggest "S" curve I have ever seen, before or since.
I'm not a slow player, but I'm not lightning quick either (tall people rarely are), and obviously the guys I was playing with were in a hurry. They did manage to wait long enough for me to hit the putt. I took a couple practice strokes trying to get the feel of how hard I was going to stroke it and visualizing the path it would take. I moved up to the ball and putted it right down my intended line, and then just stood their watching—and waiting (most of the time it doesn't seem like there is much waiting after you hit a putt, but this time there was). It followed the line that I had read—taking its time, as the greens were pretty firm and fast and so the line was generally very high and the speed the ball was rolling correspondingly slow. It did indeed go through the biggest S curve I have ever seen and it ended its long journey in the most unlikely place: the bottom of the cup, as if it had been tapped in from 6 inches.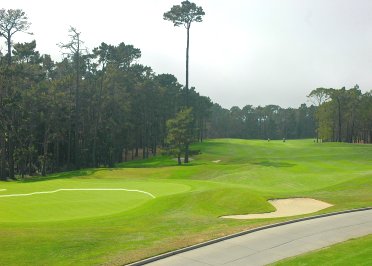 This photo doesn't really do it justice, but I drew the white line to kind of show the line (it disappears down there on the left, first because it goes out of view on the left, and then up higher because from this angle it goes behind the mound in the middle-front of the green
I mean, figure the odds… I could have hit that putt a hundred times and never made it. I honestly assumed that my chances of two-putting were almost zero. So, needless to say, I was astounded and pleased to have had that experience. My reaction to shots like that is usually laughter, as, to me, it's like the punch line of a joke when it happens. A laugh and a head shake and an ear-to-ear grin, right? When I looked at the other two they had completely disinterested expressions and were already back about their business, finishing up their putts.
I picked my ball out of the hole, picked up the flag, and put it back in. As they were walking away toward their cart one of them said over his shoulder, "Thanks for letting us play in with you." I said, "Sure."
One man's exciting moment is another man's same ol'.

As I write this they are renovating Poppy Hills, so it sounds like this putt will no longer be a possibility in the future. Tragic, maybe, as I proved that it was makeable, right? But, to be practical, I suspect that for most recreational golfers and professionals alike the severity of those mounds was too much to be seen as "normal golf," and it probably made for a limited number of pin positions too. Oh well... sigh.