The ABC's of Golf

Introduction
Part A - All About How to Get Started in Golf
Part B - Basic Fundamentals and Concepts in Golf Swing Technique
Part C - Common Golf Words and Phrases - Glossary
Conclusion
Conclusion
I hope you have found this information useful and are on your way to rapid improvement and a lifetime of enjoyment through participation in this great game that so many of us love so much.
For more information on golf technique get my 4-volume series of paperback books covering the entire game in detail.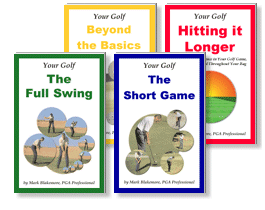 Find out more about this series of books
Further Resources for Learning the Game of Golf
I work personally with golfers, teaching all age levels and abilities, and I love working with beginners too. To find out about getting instruction from me in person see Private Golf Schools or Private Golf Lessons. Or to find a golf professional near you try PGAPros.com.


See the "Ask the Pro" section of this website for golf questions and answers submitted by golfers from all over the world, or to ask your own question.


See the Golf Tips section of this website for tips on every major aspect of the game.


See the Golf Instruction Articles on this website, covering a wide variety of topics.


See the Golf Pro Shop for all kinds of equipment, training aids and accessories for golf.


See the Golf Bookstore for more great books on golf.
I certainly hope you have enjoyed this book. Again, it is intended to give brand new golfers somewhere to start. If you know anybody who is thinking of taking up golf please recommend this free book for beginners, The ABC's of Golf, to them. Here is a link to the first page of the book if you'd like to send it to them now - http://www.pgaprofessional.com/abcs_of_golf.html
Best wishes for success with your learning, practicing and playing, and may you enjoy the game as much as the rest of us golfers do. MB
If you have a suggestion as to how this book could be an even better resource for brand new golfers or feedback of any kind please