What it's Like to Shoot 58... When Your Age is 58

"Rocketing" into the Zone

| | |
| --- | --- |
| Date: | October 6, 2008 |
| Course: | Las Colinas Golf Club in Queen Creek, AZ |
| Par: | 71 |
| Yardage: | 6,555 yds - "Coyote" tees (longest) |
| Score: | 58 - 13 under par (scorecard below) |
| Notes: | 5 under after 9 holes, 8 under for back 9, hit every fairway, hit 17 of 18 greens (and chipped in for par on the one missed green) and had 21 putts |
Rocket Hoskins had quite an unusual round of golf recently, and perhaps became (unofficially*) the youngest golfer ever to "shoot their age." This is the first time that I've ever done an interview article, but it certainly seemed like a good reason

Though this will not be officially recognized as a record (*) we can certainly be entertained by it and learn something from it. As far as I know, this is the lowest score that has been recorded by a person shooting their age. Rocket did not know this, but from what I can gather the previous record was held by Bob Hamilton, a golf pro who shot his age at 59, at Hamilton Golf Club in Evansville, Indiana in 1975. The course was par 70, so he was 11 under par.
I spoke to Rocket about his round on October 22nd, 2008.
---
MB:

Okay, Rocket, first some preliminary stuff. At what age did you start playing golf?


RH:

5
MB:

At what age did you first break par?


RH:

17
MB:

What was your previous low score, before the 58?


RH:

63
MB:

Was there anything you felt before, or early in, the round that made you think you were going to go extra low?


RH:

Not really before the round, no. But when I came in at 5 under for the front nine, well, usually what happens is I'll have a couple beers at the turn and then shoot like 39 or something on the back, right? [We both laugh] So at this point I'm just thinking I can shoot like 2 or 3 over on the back and still be under par.
MB:

So you went into the back nine pretty "casual" then.


RH:

Right - "nothin' to lose", "this is just one of those afternoon rounds", "I'll probably end up shooting 68 or 69", like that.
MB:

Was there a particular moment when you first started thinking about the fact that you could go extra low, or achieve a personal-best, etc.?


RH:

Yes, after I birdied most of the first few holes on the back nine and was 9 under par with 4 holes to go I went "wait a minute; this is a serious round." Then I hit a great drive on the par 5 15th hole and cut a 5 wood onto the green. My playing partner with binoculars told me my ball was 12 feet or so for eagle and then it hit me really hard. I thought "Man, if this eagle goes in this could be wild."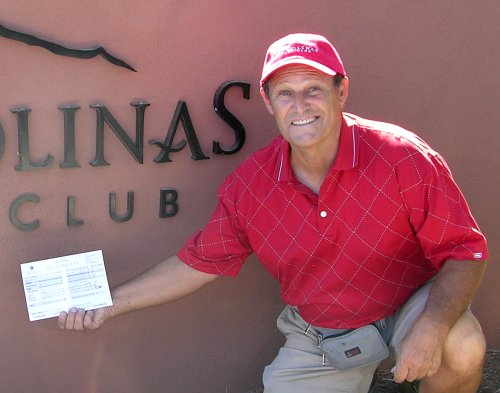 Rocket with the scorecard
MB:

Was there a moment, or more than one moment, where you felt that the awareness of how low you might go interfered with your ability to focus or play shots?


RH:

Well, on the par 4 13th hole, I think it was, I hit a drive that I kind of pull hooked into a tree, and I usually play a cut so I must have been feeling it [anxiety] because that [mistake] is really rare for me.
MB:

How did you handle the situation, or your feeling(s) - did you have a procedure of some kind to get in the right mental state on each shot?


RH:

Oh I definitely have a pre-shot routine and I always stick with it. But in that kind of a zone it's like, I don't know, I felt like I almost could have closed my eyes and still, you know - it just didn't matter. I mean, there were times when I'd feel like I caught it a little heavy or a little thin and think to myself, "Oh that's way short", and then look up and it would hit the fringe and roll up to like 8 feet, you know.
MB:

Do you recall having had this type of experience before (with other low scores or in any other type of activities)?


RH:

Well, when I had the 63 at Mount Woodson in San Diego that was pretty magical. We were playing late in the day and when I hit my tee shot on 18 I couldn't even really see it but I knew it was down the middle 'cause I'd played there a lot. And I hit an approach shot that I thought I caught a little heavy and I was saying "go, go!" and it landed right behind the bunker - we could see it kick up a little sand -- and then bounced down to a few feet, stuff like that.
MB:

Did you deal with anxiousness differently this time than you usually do?


RH:

It was very different this time. And I can put it into one word, but before I get to that word let me say that I've always been a good ball striker - tee to green I've always been good. But in the last few years the putting has been suspect. But on this day I could see the putts and knew I had it read. On any other day I could play the same round from tee to green and shoot 68 instead, because of outguessing myself on the greens. So it was all about the putting.
MB:

Have you ever had this type of experience in a tournament?


RH:

Yes, in high school when I was 17 I had some rounds of 65 or 66 when I was normally shooting like 72-74.
MB:

Did your playing partners notice that anything unusual was happening?


RH:

They were amazed at my drives. I'm not a big guy -- maybe 5' 7" or so and 180 lbs. - and I was averaging about 275, with a few 300's in there every now and then, so I was flushing it. But on the greens, with all the one putts, I'd be like 25 feet for birdie and they'd be saying, "Here we go again, you'll probably make this one too," and sure enough I'd make it.
MB:

Were you shooting at all the pins?


RH:

I was shooting at some of the pins, yeah, but more than that I was playing whatever the shot was. If it was a cut, or a draw, or a knockdown, or a high shot that landed soft, I would formulate it in my mind and then hit it, and then I'd go "Wow, I did just what I thought I'd do." I think that's what the zone is. I was creating the shots in my mind and executing what I thought I could do.
MB:

Of course you can always think of shots you left on the course, but were there just as many shots that went IN that were unlikely? (e.g., the chip in for par)


RH:

Sure. There were two putts on the front nine - one from off the green where if I wouldn't have left the pin in I probably would have been like 25 feet by the hole. And when I made the eagle on 15 I was only 12 feet or so from the hole but it was way above the hole and left-to-right with about 4 feet of break. If that one wouldn't have gone in I would have been probably 25 feet by there too. But the big thing is on 17 one of the guys says, "Dude, you're out of your mind. The only thing you're missing is a hole in one and this would be the greatest round in history. I decided to just hit a big 7 instead of a 6, and I hit the pin on that hole! [We both laugh] The ball mark was about 2 feet right in front of the hole, so it just did one of those one-bouncers and ended up staying close. But you know how it is when you hit the pin; that one could have gone anywhere too. So I consider myself lucky. I was in the zone, the golf gods were with me.
MB:

If the question were asked, "How did you do it?" could you think of a simple answer?


RH:

Well, I think it was hitting the shots as they came up instead of thinking about my round. Like picturing what the shot called for andů Here it is -- I executed what I saw in my mind.
MB:

And that is different from how you usually play?


RH:

Well, yeah, because usually on the front nine I have a couple beers and then on the back nine it might be like a 6 pack.
MB:

So you stayed more conscious this time.


RH:

I did. [We both laugh]
MB:

Is there anything that I should have asked you that I didn't? Or are there any comments you would like to make about the experience?


RH:

Yes, I'm thinking about the day after the 58. I went to the course to present my card to the pro with the witnesses from the day before there, and it turned out that they weren't going to be there for a while. So I decided to go out and play nine holes with 3 guys from the Queen Creek, Arizona High School golf team (1st, 2nd and 4th man players). They had heard about my round and one of the guys, Adam, actually said to me, "Dude, that's bull_ _ _ _, you shootin' 58." And I was thinking to myself, "Kid, one of these days you may think differently." Then on the first 5 holes I went birdie, birdie, birdie, birdie, birdie, and Adam says to me "I'm really sorry about not believing you." [We both laugh] So I went ahead and finished the round, since I was playing so well, and shot 64. I couldn't believe it. I was talking to a buddy on the phone after the 58 and he says, "If you play tomorrow you'll probably shoot 80." So to shoot 64 the day after the 58 - and I was exhausted by the 58 - it was like a weird dream.
MB:

Okay, last question. Do you have any general game improvement advice for aspiring golf students (of any level)?


RH:

Sure, a couple things. When you go to the range don't just pound balls; after you've hit a few standard shots at a given target create different shots to that same target, like taking a stronger club and hitting a cut, taking a weaker club and playing it back in your stance to hit a low draw, stuff like that. And practice putting, practice putting, practice putting!
* Records of this kind (course records, etc.) are accepted, or not, at the discretion of the host professional. This was just a casual late afternoon round where the threesome was thrown together (Rocket did not know the two gentlemen he was playing with). It appears that since Mr. Hoskins and the people he was playing with were out of town guests and not known by anybody at the golf course, the scorecard was not accepted. I asked a fellow PGA Professional who has been the Director of Golf at a well-known local course for decades how they would have handled the situation and he said that their policy would be to not accept a course record if it were not either in a tournament or witnessed and attested by a professional or credible, well-known local players.
In any case, it was the round of a lifetime for Rocket Hoskins. I appreciate him taking the time to tell me about it and wish him all the best with his golf in the future.
Don "Rocket" Hoskins lives in southern California and manages a traveling troop of Frisbee dogs, The K-9 Comets. He is a member of the SCGA with a 3 handicap. He played his high school golf in the C.I.F. southern section at Estancia High School in Costa Mesa, CA. They had a Championship team in 1967 and '68. He plays golf whenever he can.